The Ag PhD Crop Scouting Reports are supplied by contributors to Hefty Seed Co., based in Baltic, South Dakota. Find more online at www.agphd.com and www.heftyseed.com.
ARKANSAS
Augusta, AR
Lay-by herbicides are going out on early soybeans.  Most are going with Liberty or Engenia, depending on the planted technology, stacked with a residual. It's a good idea to use a different mode of action when applying residual herbicides. — Perry Galloway
ILLINOIS
Georgetown, IL
Saturated soils can result in nitrogen losses. I recommend farmers do nitrate and tissue testing in-season.  That way, sidedress rates can be adjusted accordingly. —
Tyler Smith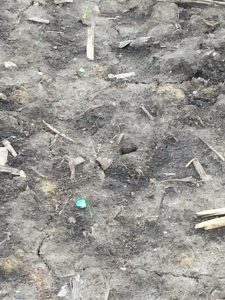 Princeton, IL
I was in a field with a farmer over the weekend. He could see a corn emergence problem from the road. What we found was his planter had not completely dropped and his seed was on top of the ground. The only fix was to replant the pass. —  John Becker
We have seen some corn today that is very close to V3 that is only a few inches tall.  As you can return to the field to resume spraying, continue to stage the crop for post applications.  With the small size, one might be lured into thinking it is not as far along as it is and could injure fragile seedlings with an off-label application. — Mike Denton
IOWA
Rockwell, IA
If you're adding atrazine to your corn herbicide tankmix, it is labeled up to 12 inch tall corn.  I recommend using atrazine as it helps many other herbicides work better. — Tim Nuehring
Sheldon, IA
Soybeans have been slow to emerge, and some growers are concerned that they might have to replant.  The warmer weather is returning to the area, so we can see that the beans are still growing, but at a slower pace. We have also noticed that there has been some crusting developing.  Keep following up on this as it will most likely clear up in the few days, but if it doesn't, an intervention might be needed. — Nathan Kloft
Wild buckwheat is showing up in fields around the area.  The key to this weed is to get it early.  If you can cover it with a coffee can, it is in a more susceptible stage.  A dicamba product like Xtendimax or Status will do a very nice job.  Use one of the newly approved tankmix partners for the Xtendimax with either one to reduce the volatilization and drift. — Adam Sauer
If your farm's post-emerge corn herbicide program has been weak on weed knockdown in previous year's, you might be missing the $5 kick to ensure a sufficient kill. Most HPPD products (Impact, Callisto, Bellum, Amezon, and Laudis) have requirements for adjuvants and a nitrogen source to ensure an effective dose of active ingredients make it into the plant. According to research, crop oil concentrate plus UAN or AMS is the preferred adjuvant system for activity on difficult to control species. Some labels will allow NIS or MSO but others will require it to stay out of the tankmix. To ensure a more cost-effective spray season, use the proper additives. — Connor Majerus
MINNESOTA
Fairmont, MN
Being in many fields these past days, I've seen quite a few weeds emerging. With the warm weather and low wind speeds ahead, many guys will be out spraying.  Improper tankmixing can cost someone a lot of money. The two tips I've heard from farmers to avoid problems are: 1) Make sure that you are mixing the proper products in the correct order as well as 2) triple-rinsing your tanks to avoid contamination. — Sam Geistfeld
Hancock, MN
Keep in mind that the new dicamba formulations Xtendimax and Engenia can also be sprayed in corn.  They may be slightly more expensive, but the reduced risk of volatility is a big deal.  If your corn is getting to the V2-V3 stage, it may be time to look at a safened dicamba instead such as Status or DiFlexx, to reduce the risk of crop injury. — Aaron Giese
Janesville, MN
Insects are starting to be a nuisance in yards and around houses. Try using Tempo in these areas to control insects like spiders, mosquitoes, and flies. Check the label for rates and where/how to apply Tempo.  — Josh Bruns
LeRoy, MN
What is the difference between the HPPDs like Callisto, Laudis, Impact, and Armezon? Here are some comments I've heard from farmers this spring.  All the HPPD's work very well on broadleaf control.  Impact and Armezon are exactly the same chemistry.  Laudis and Impact/Armezon are slightly better on grass control than Callisto.  Impact/Armezon appear to be a little safer on the crop than the others. In terms of price points, there are programs with some that may make one cheaper for your farm depending on the other crop protection products you will use.  — Grant Lunning
Marshall, MN
Waterhemp is starting to show its ugly face in some local corn fields. Most of the pre's have been put on, but some growers have decided to use Resicore post-emerge instead this year.  Resicore (1.25 qt/acre) must be applied before the corn reaches 12 inches tall.  Roundup and Atrazine are good tankmix partners with Resicore. Non-ionic surfactant should be used with that mixture at 1qt/100 gallons of water. — Dave Timmerman
Olivia, MN
I have been seeing herbicide damage on some soybeans coming out of the ground. The hypocotyl on a few soybean plants got damaged pushing through cold, wet soil after a herbicide was applied. — Aaron Spronk
I have had a few questions about rotary hoeing soybeans that are crusted and having trouble pushing through the crust. This is not a good idea, especially if the soybeans are pushing against the crust. You will do more damage to the hypocotyl than you will do good for the emergence of the soybeans. — John Scheibel
Growers who planted their corn the end of April were a little nervous with all the cold rain and even snow we had the last week in April. However, now this corn looks to be the best in the area. The plants are green and the stand looks good. — Tony Hagen
Thief River Falls, MN
Thursday – Xtend soybean acres are going to help your weed control this year, but on-target chemical applications are a must. Make sure you have the preferred nozzles purchased or talk to your agronomist about getting the correct setup on your sprayer.  The use of adjuvants is critical for ensuring your application will not drift or volatilize.  Pick up your drift reduction products early and get familiar with the rates for a successful application season. — Alex Yaggie
A grower used a group 2 (ALS) pre-emerge product on spring wheat and after scouting the field recently, I came across wild oats the same size as the wheat that appear to have become resistant against that mode of action. After talking with the grower, he will come back with a group 1 mode of action (ACCase) post-emerge, like Axial XL at 16.4 oz/acre, to control the wild oats. — Jordan Swanson
Winthrop, MN
These last few days have been so windy that I wouldn't suggest spraying. It's a good reminder that you should be carrying a drift retardant with you in case you need it.  You never know when the wind will decide to pick up. A few good options are Gateway NG, Intact, or if you're looking for something that will condition your water, as well as help with drift, I like Lockamba. — Tyler Gasow
We have had a few reports of soybean damage from group 14 (PPO) herbicides. This was caused by hard rains at emergence.  Scout fields to make sure your stand count is still good.  Some of these acres are in fact disease related and not chemical damage. — Dean Christiansen
If you are looking to add a dicamba product to your corn application, look at spiking in some Clarity to your tankmix.  If the corn is past V2, however, DiFlexx or Status will be the better options to avoid crop injury since they have a corn safener in them already.  — Matt Vogel
MISSOURI
Bertrand, MO
Some farmers are applying Liberty on their Liberty Link soybeans early post right now. For best results, spray weeds when they are smaller than 4 inches if possible.  32 oz/acre should provide good weed control for now. A second application may need to be applied later. — Albert Duenne
While observing a Liberty Link soybean field yesterday, I noticed some grasses present. The farmer planned to use Select Max at 8 oz/acre to take care of that problem. — Albert Duenne
Hayti, MO
When tankmixing approved chemicals with Engenia, you must also have the approved drift reduction agent (DRA). The list is on Engeniatankmix.com. — Danny Stevens
Most peanut farmers are aware of the changes the European Union made regarding the purchase of peanuts treated with propiconazole, which is commonly used in the ongoing fight against leaf spot diseases.  But with peanut acreage expected to rise again in 2017, moving away from premixes like Tilt/Bravo or Echo/PropiMax will ensure your crops won't be rejected.  Alternatives that don't have propiconazole can include Bravo (1 pt/acre) + Alto (5.5 oz/acre) or Bravo (1 pt/acre) plus Eminent (7.2 fl oz/acre).  — Barry Gilmore
MONTANA
Sidney, MT
In the Circle, MT area, we noticed some yellowing of some pea fields.  It was misdiagnosed as Spartan Charge injury, but further investigation showed that these fields actually suffered from root rot injury.  After further discussion with the producer, no seed treatment was applied.  A seed treatment like Apron Maxx, Obvius, and others would have helped protect against pythium, fusariam and rhizoctonia root rots.  — Chet Hill
With the drought conditions, many producers are looking at herbicides that are cheaper per acre.  Remember, as these weeds build a heavier waxy film on the leaves, we need to make sure to penetrate that waxy film and get the chemical in.  Consider using a higher rate of the herbicide and don't skimp on the adjuvants.  It will be much cheaper than spraying twice, and more effective that going cheap.  Many are also considering waiting with the grassy herbicide until more of the green and yellow foxtails (pigeon grass) and wild oats are up out of the ground.  — Chet Hill
NEBRASKA
Laurel, NE
There are a few fields that have some marestail escapes from the pre-emerge/burndown pass.  If your soybeans are not up, Liberty is a good option.  Otherwise, FirstRate or FirstRate + Flexstar are your only options if you did not plant Xtend or Liberty soybeans. — Kody Urwiler
West Point, NE
I am finding a lot of grass out in fields that was missed during our pre because Roundup was left out of the tank. Grass can be a huge yield robber in any crop.  There are two key takeaways: 1) check your fields before deciding on your tankmix, and 2) you may need to make your post-emerge application sooner now to control grass escapes and to preserve your yield. — Jared Steffensmeier
NORTH DAKOTA
Hurdsfield, ND
Before hitting your  InVigor canola with Liberty, be sure to check the fields for grasses. Clethodim or Se-CURE can be added to your tankmix for added grass control. — Emily Kline
Lisbon, ND
With spotty rain in the area, check your soybean fields that had pre-emerge products applied.  Some didn't receive enough rain to activate and weeds are breaking through.  Others look clean as a whistle. — Spencer Schultz
Mohall, ND
Last year, corn producers had great results using Armezon Pro.  We're seeing farmers in the area add a dicamba product OR atrazine to Armezon Pro, depending on their weed species.  For example, dicamba will help control wild buckwheat while atrazine will give longer residual in the soil.  When using Armezon Pro post, do not use dicamba AND atrazine with it.  You can use one or the other, but not both.  — Ron Hefta
The spring wheat in our area looks great.  A lot of guys are getting ready to use 28% as a topdress foliar feed for wheat.  Remember to add Agrotain or a generic equivalent to help minimize nitrogen loss and for qualifications in the conservation security program (CSP). — Ron Hefta
SOUTH DAKOTA 
Baltic, SD
The waterhemp has emerged in corn fields all around!  Corn is at V4, so the next few days is your last chance to spray dicamba before corn gets to V5.  When the growing point is out of the ground at V5, you should not use dicamba any longer. — Rob Fritz
Centerville, SD
There have been reports of hard, crusted soil in the area. Be sure check your stand on your late planted corn and soybeans to make sure they are pushing through the tough soil conditions in the area. — Travis Petty
Freeman, SD
I've heard of some foaming issues on a few farms this year.  If you'd like to avoid or solve any kind of foaming issue, the guys who use Gundown Max at 2 oz/100 gal of water say that it makes reloading quicker and their foaming problems a thing of the past. — Matt Zilverberg
Gettysburg, SD
If you have algae in your water tank, consider adding copper sulfate to clean it right up.  It's inexpensive and effective. — Kyle Hawkinson
Huron, SD
A possible solution for broadleaves in post corn is Laudis at 3 oz with dicamba up to 8 oz with non-ionic surfactant at 1 qt/ 100 gallons of water.  This is a nice combination for weed spectrum and crop safety.  The Laudis will safen the dicamba and increase the weed spectrum controlled.  This can be sprayed up to around the fifth leaf. — Garritt Dykstra
Watch your corn height: Banvel can be used on smaller corn up to about V2.  After that, switch to a product like DiFlexx or Status.  Both of these products have a safener in them. — Norland Hofer
Kimball, SD
Guys are starting to pick up either Xtendimax or Engenia to spray over top of their Xtend beans. Remember adjuvant requirements as you are getting the tank ready. Some products like PowerMax require a certain drift reducing agent (DRA) like Intact in the tank. Check the websites set up for these products requirements:  http://www.xtendimaxapplicationrequirements.com/ and http://www.engeniatankmix.com. — Jeremy Nedved
If your corn is around V5, Banvel is not recommended.  Brox 2EC (generic Buctril) is very good at controlling wild buckwheat and quite a few other broadleaves that glyphosate has problems killing. — Mike Erickson
Watertown, SD
Farmers who didn't get a pre herbicide on their soybeans before emergence are now adding Warrant at 3 pts/acre or generic Dual at 1.25 pts/acre to their first Roundup pass. — Jack Beutler
Growers like to add Warrant as a residual product to their post-emerge Roundup applications as it helps control future flushes of waterhemp, lambsquarters, and nightshade.  Remember that Warrant is not a burndown product, so if Roundup won't burn down the weeds that are up you'll need to add another tankmix partner as well.  — Beau Wensing
WASHINGTON
Quincy, WA
Round 2 of rust has started along the Highway 2 corridor.  Look at your harvest date.  If it's greater than 14 days, you need to add a strobilurin to your propiconazole to extend your protection and protect that flag leaf! — Dave Dye
---
Moving Agriculture Forward
The AGDAILY Digest is the information superhighway for your country road.
---