The Ag PhD Crop Scouting Reports are supplied by contributors to Hefty Seed Co., based in Baltic, South Dakota. Find more online at www.agphd.com and www.heftyseed.com.
ARKANSAS
Augusta, AR
More rice is being sprayed today. The grass has gotten to be pretty big and some may get missed. Clincher or Rebel Ex are options to use in the future. We're finally taking some of the early April planted rice to the flood on Wednesday before the next rain event, probably pushing it a bit but got to start somewhere. — Joey York
As flood waters go down slowly, it is day to day on the rice coming out from underneath the water. It is stretched pretty badly, but overall I'm a little more optimistic that we may save more than I thought. Obviously there are some fields that will be a total loss. We have to get herbicide on the ridges of the fields we think we can save to check the grass up. One day at a time. — Joey York
IDAHO
Buhl, ID
The longest day of the year, June 21, is coming up and dry beans should be planted soon to maximize yield by taking advantage of "harvesting light" with our days that have longer hours of daylight. Also, a seed trench inoculant with pop up fertilizer will help to get beans off to a good start. — Tyson Goossen
ILLINOIS
Georgetown, IL
Rust has been found in a local wheat field. Don't forget about your wheat fields as you are out scouting your corn and soybean fields. Flag leaf is a great time to spray a dual mode of action fungicide to see a boost in yield. After the wheat has started to head, stick to triazole fungicides like Prosaro, Caramba, and Folicur. — Evan Zimmerman
Princeton, IL
How do you respond to cooler temperatures and perk corn back up? RyzUp SmartGrass, when applied 3-5 days after a frost event, has been shown to help corn recover more quickly. — John Becker
Some farmers in the area are in the process of making difficult corn replant decisions. There are many factors they are considering. Most ag universities have information on this. I have attached an address for one of them. — Mike Denton
I spoke with a couple farmers who are concerned with plants emerging in wet spots that are now dried up. I will encourage everyone that has this concern to go out and dig up seedlings. From our discovery with those farmers, the plants are behind schedule but appear to be healthy. Something to consider before replanting this spring. — Matt Denton
IOWA
Sheldon, IA
With the corn emergence going strong, now is a great time to get out and start doing stand counts. This is a good way to check your planting population, seed germination, and see if there were any skips in the row. In 30 inch rows, measure off 17.5 feet to start counting plants. Multiply times 1000 to get your population per acre. Another best practice is to do multiple rows in one area to get an average, and do multiple points throughout the field to get an overall average. — Nathan Kloft
If you've had crop response from cross contaminated tankmixes in the past, be diligent when switching between crops this spring. Many of the pre-emerge spray programs provide 3-5 weeks of residual control, so leaving any active chemical residuals in the tank, booms, or nozzles can set you up for lost yield. As with any chemical, ensure the label guidelines are being met, but Ag PhD has a guide for most tank cleanouts. — Connor Majerus
MINNESOTA
Breckenridge, MN
With the rain delaying planting/spraying, farmers are taking inventory and stocking up on what they will need for spray when they can get back in the fields. — Tia Johnson
There were a number of conventional corn acres planted in the area and growers are scouting fields now and determining what to spray. Without the help of the Roundup, the herbicides will need to have their full effect so as to not take any chances for escapes. Follow label guidelines and use full rates and often times 15 gallons of water per acre. — Tia Johnson
Fairmont, MN
A lot of giant ragweed escapes are starting to show up in area corn fields. Many growers are using Stinger post on giant ragweed as it is very safe on the corn up to 24 inches. This also makes for a good fence line spray as it won't kill grass but will give you very good control on giant ragweed. It also is very good on Canada thistle. — Mike Bates
Hancock, MN
As you start thinking about post-emerge chemical options, keep in mind that if you planted Xtend beans and you're using the new dicamba products (Engenia, Xtendimax, etc.), do not put AMS in the tank with these products. It will cause these products to become very volatile. There are many new adjuvants coming to the market this year to use with these new herbicides that will do a nice job without the AMS. — Aaron Giese
Many of the fields in the area that have not had tillage done on them this spring yet have some really big lambsquarters and other weeds. Make sure your shovels/sweeps on your tillage equipment are not worn down so they let some of these bigger weeds through. If the weeds are getting through or re-rooting, make sure to put either Aim, Gramoxone, or Roundup in with your pre-emerge product to help you start with a clean field. — Adam Gibson
Janesville, MN
With on and off rains, make sure you coordinate the rain fast times of the chemicals that you are spraying with the forecast. — Ray Johnson
LeRoy, MN
What happens if you don't get your intended pre-emerge applied? That's where plan B comes into place. Plan B is doing everything post. If you have Liberty or Dicamba-tolerant beans, this can work fine. Adding something like Dual, Warrant, or Outlook along with your burndown can give you some nice residual. With Roundup soybeans, it gets slightly more complicated, and we need to look at using products like FirstRate, Pursuit, and Flexstar in addition to those soil residuals to get decent control. All is not lost if you don't get your pre applied, but it usually becomes more expensive trying to achieve excellent weed control. — Grant Lunning
Marshall, MN
We're beginning to see some seed corn maggot damage in fields where untreated soybeans were planted or where a fungicide only seed treatment was used. Over the last couple springs, seed corn maggots have done some damage in our area on untreated or fungicide only treated soybeans that were planted in cool, damp soils. A seed treatment with an insecticide is really the only way to control seed corn maggots, and the only way to determine if your plants have them is to dig some up and check. — Dave Timmerman
If you are starting to see some Roundup resistant annual broadleaves growing in your soybeans that are already planted, try adding 1.5 pts -1 qt/acre of Gramoxone with your Authority First as a pre-emerge before the beans crack the topsoil. — Jeremy Jensen
As the corn is starting to emerge, it is a great time to walk your fields and evaluate how your tillage machinery and planter operated this spring. Look for differences in height and emergence timing to see if there needs to be repairs or adjustments made on the planter. — Mike Homandberg
Olivia, MN
The early planted beets are big enough now and farmers are beginning to kill the cover crop off. Some are also spraying an insecticide as cutworms and other insects are present in certain fields. We're also seeing some farmers spike in a residual product for weed control at the same time. — John Scheibel
Corn planting is pretty much done in Renville County. Soybeans are still being planted. There are already some weeds emerging in the corn fields. TripleFLEX and/or Resicore are great products that can be sprayed in your corn fields. — Aaron Spronk
I got a report yesterday that there is some uneven emergence in a corn field that was planted early. Nothing too serious, and other than that the corn looks good and pre's in the area should be activated from the rain we just had. — Tony Hagen
Thief River Falls, MN
Even though 3-inch soil temperatures are rising, the optimum is 60 degrees for soybeans and we are low to mid-50 degrees right now. Treating your soybeans with a fungicide like Intego is still very beneficial to protect the seed through germination and beyond against diseases like pythium and early season phytophthora. — Jordan Swanson
Corn has visibly emerged over the weekend in our area. Now is the time to start documenting your planter performance by checking daily how uniform the plants are emerging. If it takes longer time for neighboring plants to show up, they will suffer all year long. While you're out there, check for weeds as well. There are products that can be added into PowerMAX for early post-emergence application to relieve pressure on the late-season application. — Alex Yaggie
Winthrop, MN
Some area growers raising silage corn are trying RyzUp SmartGrass. We have seen great results if sprayed early post – up to a 1 ton increase! — Dean Christiansen
Having your seed treated is a very worthwhile investment. Using a product like Dominance or Intego will pay dividends by strongly increasing the chance of higher soybean yields by reducing the threat of seed and soil-borne diseases and insects. — Tyler Gasow
With rain coming through the area recently, some farmers may not get a chance to get their soybean pre's on prior to emergence. If this is the case there are still some good options out there to put down after emergence. Both Dual and Outlook can be applied up to V5. Warrant is another good option and can be applied up to R1 with the optimum application time being at V3. — Matt Vogel
MISSOURI
Bertrand, MO
Wondering how XtendiMax is working? I just visited with a local farmer who had some broadleaf and grass pressure in his Xtend soybeans that are from emergence to V1. He decided to use Xtendimax at 22 oz/acre, PowerMAX at 32 oz/acre with 3 pt/acre of Warrant for residual and 2 qts/100 of Intact for his drift reducing adjuvant (DRA). Great weed control! — Albert Duenne
Many farmers will be using XtendiMAX or Engenia on their dicamba tolerant soybeans soon in our area. Something to remember is to use recommended rates, recommended spray nozzles, and be aware of sensitive crops down wind. Also watch your speed and boom height as they can help control any off target movement of herbicides. — Albert Duenne
Hayti, MO
With all the recent rain in our area and more expected over the next week, farmers are seeing weeds breaking through the residual herbicides put out at burndown. If you are going to plant before the next rain and get your chemicals out, it probably won't be a problem. But if you don't, it's going to be a huge problem. Growers are going with an Xtend bean for more options. — Eric Luye
MONTANA
Sidney, MT
Wednesday – I have been getting questions on cutworms the last few days. There is a difference between army cutworms and pale western cutworms and need to be identified correctly. The army cutworm will defoliate and do its damage more above the ground while the pale western does more of its damage below the soil line. Color also distinguishes the two cutworms. Army cutworm is darker gray with more of a stripe down its back and pale western cutworm has more of a light green coloration. A petroleum based insecticide should be used for army cutworms and a more water-based insecticide for pale western cutworms. — Chester Hill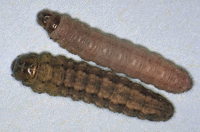 NEBRASKA
Laurel, NE
When switching between chemicals, it is always a good idea to use a quality tank cleaner. Many growers like Erase, especially following Valor products. — Kody Urwiler
As planting is starting to wrap up, farmers are finding this is a good time to get the pastures sprayed. One of the most common choices has been Grazon NXT for thistles and for leafy spurge they're choosing Tordon. — Rusty Reifenrath
West Point, NE
We are seeing a lot of alfalfa weevil. Please be out scouting. Treatment options include $2 per acre pyrethroids and could save many more dollars worth of hay. — Jacob Gubbels
NORTH DAKOTA
Hurdsfield, ND
I had someone ask about some more burndown power besides glyphosate for their soybean pre program. Spartan Charge provides some Aim to help take down weeds that are already up, and Spartan to prevent weeds from coming up. Run 5 oz/acre of Spartan Charge with 4 oz/acre of Metricor DF with your glyphosate for better weed control on your soybean acres. — Emily Kline
Lisbon, ND
With the cooler temperatures and cloudy days, farmers are finding it especially important to be using crop oil or MSO when using burner type products such as Aim. — Adam Ladwig
SOUTH DAKOTA
Aberdeen, SD
As I'm out in the fields now, I'm seeing many beans sprouting as little as 6 hours after being planted. If you were not able to get your pre down, make sure you take caution before going out and spraying post plant, pre-emerge. If the ground is cracking at all you can risk serious crop damage, so you may need to consider other options such as Zidua or Outlook. — Justin Hanson
Baltic, SD
Corn is up! The earliest corn that I have looked at was planted around April 17th. It looks fantastic and is off to a great start. Get out and check your corn stands to see how things look. — Tyler Koenig
Soybeans are being planted at a very fast pace this week. Some growers are wondering what options they have for a residual herbicide if they didn't get a pre-emerge herbicide sprayed after planting. Some options are Warrant, Outlook, Dual, or Zidua. They work well but I would still try to get your pre-emerge herbicide on. — Wes Jepsen
Alfalfa stands are coming along nicely and have recovered from frost damage. Lots of insects are being found in fields already so do not forget to follow cutting with an insecticide pass. — Rob Fritz
Centerville, SD
I had a question come up on the disadvantages of soybean-on-soybean acres. The main things to look out for if you can't rotate that piece into corn are fertility and potential diseases. Be sure your potassium levels are adequate for this year's crop, as the previous bean crop removed more K than a corn crop would have. Look out for soybean cyst nematodes (SCN). Potential options for them are ILeVO/VOTiVO or Clariva Complete seed treatments, and an SCN-resistant soybean variety. Fungicides and insecticides will help keep that plant healthier to ward off diseases. — Peter Strom
Freeman, SD
I have gotten some reports of volunteer corn emerging in fields going to soybeans. One option some farmers are choosing is to spike in 2 to more likely 4 oz/acre of Fusilade with your pre-emerge herbicide to take care of them. — Lee Dockendorf
Gettysburg, SD
Growers seeing buckwheat on flower ground are trying Vida at 1.5 oz/acre with 3 lbs/acre of AMS and MSO at 1 gal/100. It's worked well for them in the past and they're expecting good control again. — Kyle Hawkinson
Huron, SD
If you miss your window for pre-emergence herbicides in soybeans due to weather, remember you still have options, especially with Liberty or Xtend soybean seed. With Liberty or Xtend, just use the corresponding product a little earlier and add in some Warrant or generic Dual for residual. In straight Roundup Ready Soybeans, your options are more limited besides the soil residuals listed above. Your add-on choices for burndown of emerged weeds include Cadet, Cobra, Resource, and Flexstar. For each of these products, you will need to consult the label for minimum stage requirements. — Garritt Dykstra
I had a farmer ask me whether he should use Aim or Sharpen on his soybean ground for a quick burndown on tough winter annuals. Most farmers in the area prefer Aim at 1 oz/acre with 1 gallon/100 of COC. Most farmers prefer this because Aim does not have any residual, unlike Sharpen. If you were looking for burndown plus residual, Sharpen would be great. — Kyle Wiese
Make sure to check your corn fields to see if corn has emerged. Some pre's cannot be used on emerged corn like Verdict for example. Harness and some others can be applied over the top of emerged cornfields. — Norland Hofer
Kimball, SD
Cooler weather and wet soils make soybean treatment a must. Prevent stand loss by using a complete seed treatment. — Mike Erickson
New Underwood, SD
Kochia is coming in strong around here. Get it killed when it's 2 inches tall or less. If you're spraying oats or barley for kochia, area growers are using Starane NXT at 16 oz/acre with NIS to clean up their fields. — Tyler Price
Watertown, SD
We have been seeing quite a bit of waterhemp coming through in the area. Getting your pre down on your crops is very important. Products like Authority MTZ or Fierce are very good options. — Beau Wensing
Spraying for broadleaf weeds in wheat is underway. Wild buckwheat and kochia seem to be quite common based on my phone calls. My recommendation is Huskie at 11-13 oz/acre plus AMS at 0.5 lb/acre. — Russ Werning
If your beans are coming up and you didn't get any residual herbicide on, you may want to consider using Warrant at 3 pts/acre or generic Dual at 1.33 pts/acre plus 32 oz/acre PowerMAX. — Jack Beutler
WASHINGTON
Quincy, WA
Beans are starting to go in the ground. Farmers are using products like Sonalan and Eptam as pre-emergent tools to keep weeds under control. — Ty Whitaker
---
Moving Agriculture Forward
The AGDAILY Digest is the information superhighway for your country road.
---