The Ag PhD Crop Scouting Reports are supplied by contributors to Hefty Seed Co., based in Baltic, South Dakota. Find more online at www.agphd.com and www.heftyseed.com.
IDAHO
Buhl, ID
I am seeing substantial gains in emergence and root mass with seed treatments and biologicals in-furrow at planting. Consider doing side by sides this spring if you aren't already. — Van Wiebe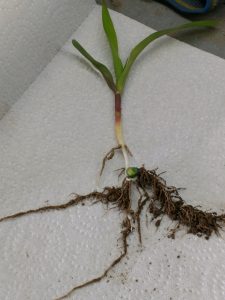 ILLINOIS
Georgetown, IL
With very little rainfall, we are starting to see weed escapes. Pre-emerge herbicides have not gotten the amount of rainfall needed to become activated. Get out and scout your fields to determine what should be done next. You may have to consider an earlier post-emerge chemical application. — Tyler Smith
Princeton, IL
Make sure you are checking the labels on your pre-emerge herbicides. With the recent soybean growth, products like the Authority brand herbicides, for example, should be used within the first three days of planting to avoid crop injury. — Matt Denton
Don't forget to clean out your spray tank when switching from beans to corn or vice-versa. A tank cleaner like Erase is great for this, and even works with new chemistries of dicamba. Be sure to remove end caps on spray booms and flush material out of the booms as well. — Mike Denton
It's very interesting see the comparison between two different styles of closing systems on the same planter in the same pass even this early in the growing season. — Nate Ihnen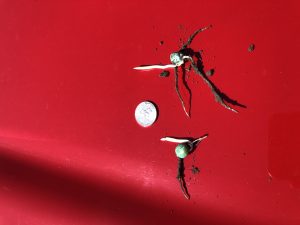 IOWA
Rockwell, IA
Southern Iowa is showing great emergence, for the most part. Stands are coming along with some varietal differences noted among brands. For any field equipment, calibration after sitting post-season is a must. Post trip in-field evaluations are key in understanding and correcting any issues for future spreading, spraying, and planting. Understand what seed treatments you're using on whatever brand has been planted. Don't know? Inquire. 
For 30-inch rows, measure off 17-feet, 5 inches and count emerged plants, multiplying by 1,000 for a stand count.
Take home message: evaluating emergence and recording performances will assist in summer 2018 seed reservations for 2019 crop planning.
Sheldon, IA
There are many dandelions starting to show up around the area. If you are concerned about spraying grass and drifting onto flowers, you will want to use a new 2,4-D called Freelexx. It is a new formulation that greatly reduces the volatility. — Adam Sauer
KANSAS
Garden City, KS
With newer herbicide resistance traits, it's easy to forget a good residual. One such chemical that can play a vital role in a good residual program in both dicamba tolerant soybeans and cotton is Warrant. At 1.5- 3 qts/acre, it can provide extended control of many rough weeds, including Palmer amaranth. — Chris Lobmeyer
Fairmont, MN
When planters are able to get back into the fields in our area, there will be a big rush to get corn finished and jump right into soybeans. When growing soybeans in our area, many fields have high pH (which oftentimes leads to iron deficiency chlorosis). One cultural option to minimize this is to increase your planting population in those areas to increase your field average. — Sam Geistfeld
Hancock, MN
Make sure that you are checking your planter seeding rates numerous times during the day. We have had a few reports from producers of over populations of seed. This will cost you more for seed as well as cost you potential yield. — Nathan DuHoux
LeRoy, MN
If you have some corn that is just starting to emerge, now would be a great time to go out and do stand counts and emergence tests. The idea is to see how even the crop emerges. It's like a report card for the planter and usually a good, even stand is an indication of high yield potential. — Grant Lunning
Olivia, MN
Many growers have told me they had bad white mold last year. Here are just a couple options to consider for this year. A half rate of Cobra (6 oz) right before flowering has been shown to suppress white mold and will not burn your beans nearly as bad as when using the full rate. Using a fungicide such as generic Domark at 5 oz will help protect the plant from white mold and increases overall plant health. Both of these options run about $6-$7. — Tony Hagen
Sugar beets are going in the ground fast. Remember the only Dual product that is labeled for pre-emerge is name brand Dual Magnum; 10 -16 fl oz is a common rate. Nortron is also a good option that won't be as damaging to the nurse crop. Rates vary by herbicide plan: anywhere from 1 -7 pts. A lot of growers border their fields with this at the least. — John Scheibel
Thief River Falls, MN
There is still frost coming out of the ground up north. With the cool soils, it is advisable to be treating wheat and soybeans with a seed treatment and insecticides for best stand establishments. — Terry Funk
Winthrop, MN
With the late start to the year, it would be a great time to put a seed treatment on your soybeans. Fungicides and insecticides on the seed or in-furrow will protect the seed while it lays dormant. Growers have commented that QuickRoots will help get the seedling get started and out of the ground faster in tough soils. — Matt Vogel
Getting a good pre-emerge herbicide on your soybean acres is crucial. We have had great success with Authority Assist or Authority First along with ¼ lb of Metribuzin. Just make sure you get these applied prior to emergence. — Dean Christiansen
If you haven't been able to get a pre-emerge on your corn ground, you're not alone. We're seeing farmers head out with products like TripleFLEX and SureStart even after emergence as they are safe to apply on up to 11-inch corn. — Tyler Gasow
MISSOURI
Bertrand, MO
If you are looking for a product to control resistant pigweed, you could use a product like Zidua at 2-2.5 oz/acre. Zidua can provide effective long-lasting residual weed control on many grasses and small seeded broadleaves. — Albert Duenne
Hayti, MO
I'm seeing emergence of early soybeans in the area. For about a week after emergence, the small oval seed leaves – the cotyledons – provide seedlings with nutrition and start the photosynthesis process. Nodulation can also begin in as little as a week after emergence. Stem growth, unifoliates, trifoliates, and node development leading to pods (and yield) will quickly follow. Proper plant nutrition can be enhanced through foliar applications. If you feel your soybean yields have been lower than you'd like, now is a good time to review soil analyses and have a plan for upcoming foliar applications on your soybeans. — Danny Stevens
MONTANA
Sidney, MT
Each year I get asked what this weed is. It's fairy candelabra. This plant flowers early in the spring and rarely gets more than 4 to 5 inches tall. It dies out in the spring and causes little problem with crop production. Control it with normal burndown herbicides. — Chet Hill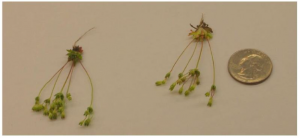 NEBRASKA
Laurel, NE
If your corn has emerged and you didn't get your pre on, Dicamba and Resicore would be a good fit. — Rusty Reifenrath
Seward, NE
I have noticed velvetleaf is starting to emerge through tilled and bare soil and Palmer amaranth will begin to emerge in the next week to 10 days. Be aware when scouting and planting your fields. Make sure to control these pests early! Zidua Pro at 6 ounces per acre is a great fit for this environment. It's going to provide you burndown to get control of weeds as well as residual to keep the first flushes Palmer amaranth and velvetleaf from emerging. — Kegan Macfee
After recent rains and cloudy cool weather, soil pathogens will be present and thriving in these kinds of conditions. Remember to use multiple modes of action in your seed treatment fungicides plus an insecticide on your soybeans for protection. — Brad Meusch
While post-emerge herbicide season may seem far away, now is the time to start thinking about what programs you're going to run. We want to get that stuff out earlier before your pre-emerge residual runs out, but we also want to get it out as close to canopy as possible. When it comes to post for residual products, Dual, Zidua, and acetochlor are some of your best options. — Devin Prochaska
Many growers are moving over to beans this week in our area. We always stress the importance of putting at least an inoculant on each unit of beans. For a mere $1.50 – $2.00 per unit it will be well worth this minimal investment. You are suppling your new seed with powerful rhizobia bacteria for the fixation of nitrogen for your new seedling as it grows. This will be even more important when it comes to high and low pH area or where soybeans have not been planted in several seasons. — Trent Mettenbrink
West Point, NE
If Verdict was in your plan for a corn pre this year and you have corn coming up, we will need to make some changes to your program. Products like SureStart, TripleFlex, or Anthem Maxx can be sprayed on emerged corn. — Jared Steffensmeier
NORTH DAKOTA
Lisbon, ND
Many growers are using burndown products such as Gramoxone or Aim. Make sure you are spraying a minimum of 15 gallons/acre to get adequate coverage for the best weed control. — Adam Ladwig
Mohall, ND
A great option post for corn would be Impact at 0.5 oz/acre. Spiked with a low rate of atrazine, this will have very good control over small kochia and lambsquarters. — Wyatt Thompson
Webster, ND
When doing a burndown with 2,4-D, remember there is a week to 10 day delay before planting some crops. — Shawn Knudson
SOUTH DAKOTA
Aberdeen, SD
If you were not planning on using seed treatment on your soybeans this spring, you may want to re-consider your options. With the cool temperatures and now the wet soil, a fungicide, insecticide, and inoculant combination treatment would be an excellent insurance policy on your crop's safety. — Justin Hanson
Baltic, SD
I have seen more dandelions in fields this year than I have in a long time. With more guys switching away from tillage, this is one weed that can be taken care of easily. The best time to kill dandelions is a fall application of Banvel. You can spike in some 2,4-D and Roundup as well. This should take them out once and for all. — Tyler Koenig
Centerville, SD
With field conditions in the area not fit, I have had a lot of questions about lawn maintenance. I recommend a lawn soil test to check fertility levels in your soils and see where it needs to be corrected. For herbicides in grass, I recommend Freelexx, which is the new 2, 4-D Choline. It is less volatile, has less odor, but still does a good job killing weeds. — Travis Petty
Freeman, SD
With some acres of corn in the ground now and emergence around the corner, make sure you know formulas for evaluating your final stand.
30'' Rows: Count the number of plants in 17.5' row (X) by 1000 = Final Stand (Plants/Acre)
20'' Rows: Count the number of plants in 26' row (X) by 1000 = Final Stand (Plants/Acre) — Matt Zilverberg
Gettysburg, SD
With the cool, wet conditions that we are seeing, make sure to treat your soybean seed with a fungicide. Rhizoctonia, fusarium, pythium, and phytophthora are fungi that can infect your seed or young seedling and cause season long problems. Intego Suite seed treatment is a product that does a good job fighting off these fungi and maintaining a healthy seed. Intego will protect the seed and seedling from insect and disease pressure even after the seed has emerged. — Eric Butz
Huron, SD
Cool, wet conditions are more favorable for disease pressure in wheat. A fungicide application tank mixed with your weed control program will keep early season disease pressure at a minimum, which is a key step to reaching maximum yield potential. — Jason Leyendecker
Kimball, SD
The wheat around our area seems to be in a few different stages of growth. With that being said, it is important to be in these fields scouting for disease. Most often it's easier to stop a disease in wheat before it starts and or spreads throughout a field. There are cheap options in the strobilurin family that would do a great job of suppressing most diseases. — Jeremy Nedved
Growers are seeing a lot of kochia up in wheat fields. WideMatch at 1 pt/acre or Huskie at 12.8 oz/acre does a great job and is safer than 2,4-D on your crop. — Mike Erickson
Watertown, SD
If you are fighting waterhemp in your soybean fields going into this year, consider using Authority MTZ at 12 oz/acre, depending on your pH. Adding a yellow like Prowl to it can boost control even more and give you three effective modes of action. — Beau Wensing
WASHINGTON
Quincy, WA
With corn planting well under way, it's important that your planter is calibrated correctly to the type of ear flex of each variety you plant. If you plant too high of a population on a flex ear or too low of a population on a fixed ear, your end result could be some major yield loss. — Danny Hopkins
---
Moving Agriculture Forward
The AGDAILY Digest is the information superhighway for your country road.
---