This week as AGDAILY joined more than 8,000 beef industry members at the 120th annual Cattle Industry Convention and National Cattlemen's Beef Association (NCBA) Trade Show in Nashville, we posed the question to several exhibitors: What are you highlighting this week that can make cattle producers' lives just a little bit easier?
Here are some of the responses we received from NCBA exhibitors:
Dow AgroSciences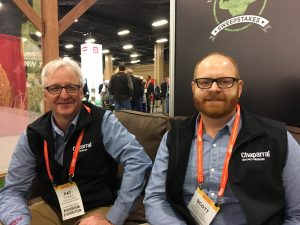 "One of the uses we are talking about is seed head suppression with Chaparral herbicide and that's used in fescue pastures where fescue is a dominant grass," said Pat Burch, Field Scientist, Dow AgroSciences. "We were able to make an application for early spring to reduce the amount of seed head and reduce the effect of toxicosis that comes from grazing fescue pastures."
Purina Animal Nutrition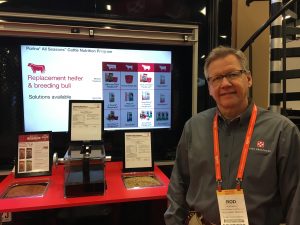 "As far as making things easier, we have worked for over 40 years on our intake modifying technology programs and what those allow a rancher to do or a range cattle producer to do is he can put out our new Accuration high-fat tub that we are featuring here and that we are just launching," said Rod Nulik, Customer Relations Manager, Purina Animal Nutrition Center. "You can put that out there in the pasture, 365 days a year, seven days a week, 24 hours a day, and those cows will come consume that product as they need it based on their energy drive and the quality of the forage they are on. It takes a lot of the guesswork out of making sure that cow every day has what she needs."
Caterpillar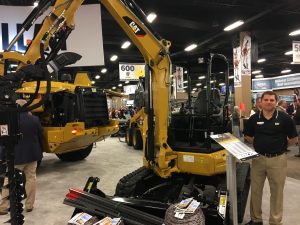 "We are trying to showcase our innovation and technology with this 4 ½ ton XTC machine. We have a skid steer coupler interface on the front which allows our customers to be able to do more with the machine They can put on skid steer attachments and work tools on the machine, and get more value out of the excavator. With the flexibility to put on additional work tools they can save time in the jobs they are doing," said Bryan Hillman, Mini Hydraulic Excavators Product Manager, Caterpillar. "We have a good set up here with our auger on this 4 ½ ton machine along with an empty bucket so they can put in materials to carry around. As they are going around to install fence they can use the auger out on the stick to drill holes and carry their fencing material along so they are not having to bring a second vehicle behind them to carry material."
Tarter Farm and Ranch Equipment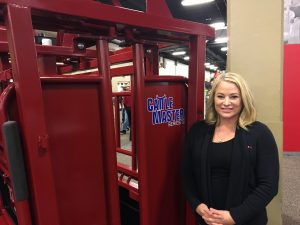 "You know that's one of our slogans — improving life on your land. We do strive to make producers' lives easier. For instance, if you look at the Series 12 Hydraulic Chute here right in front of you — that's a new product for Tarter Farm and Ranch Equipment," said Ann Tarter, Executive Vice President, Tarter Farm and Ranch Equipment. "We have been in the cattle handling business for over 70 years but we wanted to introduce a hydraulic chute that was actually the most affordable hydraulic chute on the market. Right at $10,000, you can get a new hydraulic chute, which before now had never been heard of. Those hydraulics get pretty expensive, but we have been able to reengineer and redesign the chute to make producers' lives easier on the farm and ranch."
BioZyme
"Our company has about eight brands and one that most people know is our supplement division which is VitaFerm. Through the VitaFerm line we provide our prebiotic which is Amaferm, which is proprietary, and through that also mineral and protein products that we use to make cattle digest their diets better and get more performance for those cow/calf producers," said Dr. Twig Marston, Technical Sales Field Manager, BioZyme. "That's our claim to fame. That's we love to do is make cows perform as good as they possibly can."
Bayer Animal Health
"First of all Bayer now is the owner of Cydectin, the moxidectin product as a dewormer, so that's an emphasis this week. It is new to us, not new to the market, so most producers will recognize the name Cydectin, but now it is available from Bayer Animal Health," said Dr. Larry Hawkins, senior technical services veterinarian, Bayer Animal Health. "The other thing that we are focusing on is Zelnate. Zelnate is a DNA Immunostimulant and it has been shown to reduce mortality in stressed animals so those are the two main focuses. For the younger generation in the crowd, we are doing boot selfies."
Boehringer Ingelheim Vetmedica
"The focus for us at Boehringer Ingelheim, especially at this show, has been prevention. If we can try to get vaccines in some of these animals early and prevent some of the disease that they see later on, during the food cycle or the feeding chain, we can prevent a lot of those problems that they are going to see later," said Dr. Jody Wade, Professional Services Veterinarian, Boehringer Ingelheim. "Prevention, prevention, prevention. If we can do that and try to educate these guys on getting these vaccines in earlier and earlier, we can stop a lot of that stuff in their tracks."
Zoetis
"Zoetis provides options to a lot of different types of cattle and we try to be representative of everything, but we have our whole nutritionist team in talking about Synovex One Grass. The product was released about a year ago, and has provided a lot of operational flexibility to our cattle producers in the stocker business. It's a long-lasting implant that will provide duration of activity for up to 200 days," said Dr. Blaine Corners, Senior Nutritionist, Beef Strategic Tech Services, Zoetis. "The neat thing about the product and where it provides flexibility to operations is one, it is a steer and heifer option product so they can use one gun and one implant for a variety of uses. But also if they implant cattle with an normal grazing season of 140 or 150 days, and grass is still available, then they can continue to graze and know that they have duration of activity beyond that period of time."
Save
Save
Save
---
Moving Agriculture Forward
The AGDAILY Digest is the information superhighway for your country road.
---