It was the last position President-elect Donald Trump had yet to make a nomination for, a position that commanded a $150 billion budget and would greatly affect the 2.1 million farms across the U.S. Finally, late Wednesday night, it was revealed that Trump selected former Georgia Gov. Sonny Perdue for the job of U.S. Secretary of Agriculture.
With the oft-criticized Tom Vilsack stepping down late last week and Trump's inauguration taking place this Friday, the selection came as many in the agriculture community were eager to see what the next steps would be.
Perdue, a Republican, is 70 and served on Trump's agricultural advisory committee during his presidential campaign. He was born and raised on a family farm and graduated from the University of Georgia with a degree in veterinary medicine. Perdue's was among Agriculture Secretary names that AGDAILY columnist Amanda Zaluckyj (aka The Farmer's Daughter blogger) highlighted back in November as being on the short-list for the job, and in recent days, he has been talked about as the leading candidate.
As governor from 2003 to 2011, Perdue's key agricultural issues included water management and making changes to the tax code that were beneficial to farmers, Jeffrey Harvey, legislative director for the Georgia Farm Bureau, told Reuters.
Perdue will lead an industry that's tasked with feeding hundreds of millions of Americans while having to be in tune with advancing technologies and being expected to combat a growing swath of media misperceptions. It's no small task.
Perdue's cousin, U.S. Sen. David Perdue of Georgia, said in a news release: "I could not be more proud of my cousin, Sonny, for being named the next Secretary of Agriculture. Sonny's executive experience as a two-term Governor of Georgia, the first Republican in 135 years, as well as his veterinary background and agribusiness career, are a few of the many reasons he is the best person for the job. Sonny is a national leader having served as the Chairman of the Republican Governors Association, board member for the National Grain & Feed Association, President of the Georgia Feed and Grain Association, and President of the Southeastern Feed and Grain Association. I am confident Sonny will work hard to advance smart agriculture policies that will help our farmers, ranchers, and rural communities across the country."
National Rural Electric Cooperative Association CEO Jim Matheson also gave praise to the nominee, saying, "Sonny Perdue is an excellent choice to lead the U.S. Department of Agriculture. He is a proven leader with a strong track record of appreciation for electric cooperatives and our mission to enhance the quality of life in the communities we serve."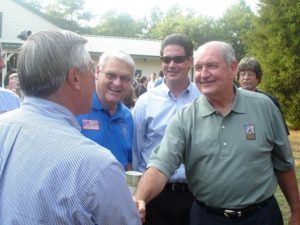 ---
Moving Agriculture Forward
The AGDAILY Digest is the information superhighway for your country road.
---