The Ag PhD Crop Scouting Reports are supplied by contributors to Hefty Seed Co., based in Baltic, South Dakota. Find more online at www.agphd.com and www.heftyseed.com.
ARKANSAS
Augusta, AR
Some of the hybrid rice was at greening last week while my more full season RoyJ rice should be there this week. We will wait and do a late season nitrogen application on the hybrid for stalk integrity but the RoyJ will get a true mid-season application of 100 lbs. Make sure you are at least 3 weeks out from your pre-flood nitrogen application for maximum efficiency of your nitrogen. 4 weeks looks even better according to Dr. Jarrod Hardke with the University of Arkansas. — Joey York
The rice is at green ring, and it is time for mid-season fertilizer. You may want to make any mid-season herbicide applications first or maybe a shot of 2,4-D amine with propanil on the levees. Make sure you are at least 3 weeks out from your pre-flood nitrogen application. Ordinarily this would not be an issue but with our delayed flooding from weather, you could look up 2 weeks into the flood and be at green ring!  — Joey York
IDAHO
Buhl, ID
With potatoes closing their rows, farmers are applying a fungicide like Omega at 8 oz/acre to control white mold and prevent late blight. — Van Wiebe
ILLINOIS
Georgetown, IL
Keep an eye out for your neighbor's sweet corn patches and gardens. Although more and more people are going to Roundup Ready hybrids, always try to be conscious of where you may have an issue with spray drift. — Tyler Smith
Occasionally we have found a little bit of speckling on the leaves of Xtend soybeans that have been sprayed with XtendiMax or Engenia. This is normal and should not cause alarm. — Tyler Smith
Princeton, IL
Select Max is a labeled tankmix partner for volunteer corn with Xtendimax. We would recommend bumping the rate of Select Max a couple of ounces when combining the two products together due to a possible antagonistic issue. Be Safe! — Mike Denton
I looked at a non-GMO cornfield with a grower this week. He had yellow nutsedge in pond areas of the field. We decided to go with Permit at 2/3 oz/acre to get a handle on the problem. — John Becker
IOWA
Rockwell, IA
Just a reminder to the farmers with Xtend beans. Remember your set backs to sensitive crops and keep track of the wind direction and speed. This spring, the wind seems to be changing directions throughout the day. — Mike Jaeger
Sheldon, IA
As we get closer to the end of June, be aware as to how much Flexstar you are putting out due to carryover concerns. A good product to reduce these concerns is Marvel. At the 5 oz/acre rate, it contains 7 oz of Flexstar and 0.6 oz of Cadet. — Adam Sauer
MINNESOTA
Fairmont, MN
Many people are mixing some form of Flexstar with their Roundup pass. If you are using this product, make sure you have some compatibility agent on hand as we have had occasional mixing issues with this product and Roundup. Normally adding compatibility agent before all of your herbicides at 1 pt/100 gal of water takes care of any issue with incompatibility and will make sure your tank is mixed uniformly. — Mike Bates
Hancock, MN
Many of the soybeans in the area are at V3 this week. Make sure to get on your Dual type products and Anthem Maxx on now by V3. The products that can go on later are Outlook (to V5) and Warrant (before R2 which is full bloom or about V7). It is a good idea to get these on earlier rather than later to get them working on this peak flush of weeds sprouting right now. — Adam Gibson
LeRoy, MN
We have seen more crop response than normal on some of our corn post-emerge herbicides. This could be for several different reasons, but one of them could be from adjuvants. Sometimes when the growing conditions are so good, which we have now, we can see some burn from the oils and even from AMS. It's is nothing to get too concerned about because it will jump right out of it, but it's always something to take into consideration. — Grant Lunning
Marshall, MN
Liberty herbicide needs 20 gal/acre of water to work at an optimal level along with AMS and volunteer corn killer. Cutting back on rates and skipping chemicals or adjuvants decreases your chances of not only having a cleaner field but higher yields in the fall. — Jeremy Jensen
Olivia, MN
The 10-month rotation restriction to crops planted next year is here if you think you will be planting April 15, 2018. There are multiple products that have a 10-month rotation restriction in corn going to sugar beets and soybeans going to corn. Be aware of what your intentions are. — John Scheibel
I have seen a few cases where Liberty has not been able to work. The second spray usually gets any new weeds or weeds that did not die the first time. Getting great spray coverage appears to be the key. Make sure you're using 20 gallons of water with flat fan or twin fan nozzles, plenty of spray pressure, and 3 pounds per acre of AMS. — Aaron Spronk
Thief River Falls, MN
Post-emerge spraying in edible beans is almost upon us, and scouting is key to using the correct herbicides and rates. Certain weeds and weed pressure can be the difference between split applications of Basagran or a single application along with other herbicides as well. — Jordan Swanson
Winthrop, MN
A good number of farmers are spraying corn and soybean acres with glyphosate plus MegaGro. We've observed a reduction in yellow flash and increased plant health compared to applications of glyphosate alone. — Dean Christiansen
If you are looking to add in a residual type product with your soybean herbicide, I would take a look at Dual, a generic Dual, or Outlook. One thing to remember is that those products can only be sprayed up to the 3rd trifoliate (Dual) or the 5th trifoliate (Outlook). If you want a product you can spray up to R2, many growers use Warrant. — Tyler Gasow
When going out to spray XtendiMax in the next few days, be sure to have the right adjuvants on hand. If you are spraying just XtendiMax alone, using Lockamba at 2 qt/acre will give you a water conditioner, NIS, and a drift agent. If you are adding Roundup into the mix, then you need to use an agent such as Correx at 2 qt/acre for your water conditioner and Intact at 2 qt/ac as your NIS and drift reduction agent. — Matt Vogel
MISSOURI
Bertrand, MO
Several farmers are applying Liberty on their Liberty Link soybeans right now. They are seeing better weed control when they add some AMS in the mix. Check use rates on the AMS for dry or liquid. — Albert Duenne
If you have not thought about a fungicide yet on your corn or soybeans, you should. Consider using a product with two modes of action, with both preventative and curative activities and lasting disease control, resulting in higher yield potential. Many growers have seen good results with Stratego YLD at 4 oz/acre – in some cases a 3-4 bu/acre increase! — Albert Duenne
Hayti, MO
A good tool to use for scouting corn right now is a refractometer, which measures the brix, or sucrose sugar content, of the corn stalk. Refractometers can be ordered online for under $30 from sites like Amazon and eBay. Be sure to get one with the appropriate range for corn brix levels. A 0-32% brix meter will do fine. To determine your brix level, cut a core out of the stalk from right below the ear leaf (or mid-stalk for younger corn) and squeeze a few drops of juice out of it using a garlic press or pliers. Drop the juice onto the window of the refractometer and look through it towards a light source. Look for levels 12 or higher for excellent corn and better insect resistance. Levels below 8 are below average. For a boost, add MMTS Sucrose Sugar to corn applications at a rate of 8-16 oz/acre and a foliar catalyst such as C-CAT Carbon Catalyst to aid translocation, nutrient chelation, and cell permeability. — Danny Stevens
MONTANA
Sidney, MT
Here is a good reminder to make sure to clean out sprayer tanks and nozzles. Chemical residue will stay in tank and nozzles for a period of time. Use a tank cleaner like Erase. — Chet Hill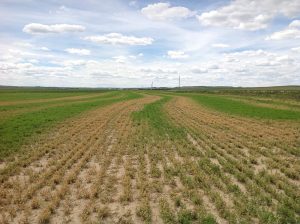 NEBRASKA
West Point, NE
Consider an adjuvant when spraying corn killing herbicides. I see better performance when I use crop oil. Make sure you're using the correct amounts to go with your other herbicides. — Jacob Gubbels
When running Flexstar we are up against the window for this product. There is a 10-month rotation restriction back to corn. Flexstar is a great product to use and alternatives can be a lot more expensive. — Jared Steffensmeier
Farmers looking to save money on a corn fungicide are often choosing Equation fungicide this season. Not only is it cheap, Equation offers great disease protection and plant health to add in with your corn post-chemicals. — Jared Steffensmeier
NORTH DAKOTA
Hillsboro, ND
A 2-inch tall ragweed plant has 9 growing points on it. With that being said, spray early and do not wait for the weed pressure to progress any further. If you are still using Flexstar, remember that it does have a 10-month rotation restriction to corn. So, if I sprayed on 6-21-17, that means I cannot plant corn until April 21, 2018. — Ryan Pierce
Mohall, ND
Take a look at www.engeniatankmix.com to view what tankmixes are labeled with Engenia. Today we are using PowerMAX, Engenia, and Extreme. Target weeds are kochia, lambsquarters, and volunteer canola. — Ron Hefta
SOUTH DAKOTA
Baltic, SD
Skips tell us what would have happened if we didn't spray a pre. Longest day is happening so flowers aren't far from showing in fields. Lots of hail damage but plants are coming back great. — Rob Fritz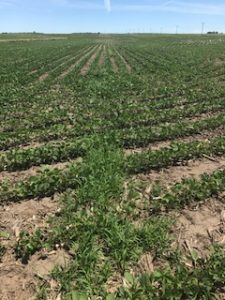 Centerville, SD
It's almost the time you should be thinking about putting fungicide on your soybeans so make sure you're out in your fields scouting. A full rate of Equation at R2 or R3 is an excellent choice to preserve plant health and increase yield. Studies have shown a 3-4 bushel per acre yield bump on treated versus untreated. Even at today's commodity prices, that's a significant return! — Ryan Kusser
Freeman, SD
As post soybean spraying kicks off, make sure you are including all the right adjuvants and not cutting back. Adding the right adjuvants could mean the difference between 99% control to 80% control. — Matt Zilverberg
Gettysburg, SD
Check your nitrate levels in your spring wheat before baling it. — Kyle Hawkinson
Make sure when the corn gets past V5 that you are switching from Clarity to Status for crop safety. That said, it's time to spray the weeds so get it done before they get too big. — Kyle Hawkinson
Huron, SD
With corn canopy on the way, it would be a wise idea to spray any remaining corn as soon as possible. When switching from corn to soybeans, make sure to use a quality tank cleaner. Many growers like Erase. — Kyle Wiese
Kimball, SD
Weed control can be tough in sorghum. Buctril does a good job on many broadleaves, including wild buckwheat. Grasses are tougher to control. Atrazine with crop oil can do a decent job on small grasses. Facet with oil is more effective but cost is considerably more. — Mike Erickson
Watertown, SD
Soybean acres in the area have a flush of waterhemp coming through. On Roundup Ready 2 acres, farmers have been going with Flexstar or a generic. Most of them have been using a rate of 12 oz/acre. They are also seeing some volunteer corn coming through. With that you have a few options, Select Max or a generic version has been working well. Otherwise, Fusilade has been showing great results, too. — Beau Wensing
WASHINGTON
Quincy, WA
As growers are finishing up their 2nd fallow spraying in the wheat/fallow area of eastern Washington, now is a good time to keep a close eye on those fields to really see what kind of spraying results you are having. The days are gone of 3 fallow sprayings of just glyphosate. Now there are many fields with tough-to-kill marestail, kochia, and prickly lettuce. Some good tankmix options are 1.5 pts/acre of 2,4-D amine for those areas with an ester cutoff plus 8 oz/acre of dicamba. Be sure if you're using glyphosate in the mix, continue to use a product like Detonate that doesn't affect the efficacy of the glyphosate. — Devin Moon
---
Moving Agriculture Forward
The AGDAILY Digest is the information superhighway for your country road.
---