Dairy farmers aren't in the best spot right now and the news can be pretty grim. But adversity can sometimes bring out the best in people. Dairy farmers Katie Dotterer-Pyle at Cow Comfort Inn (MD) and Jessica Peters from Spruce Row Farms (PA) made the decision to dance their troubles away — and the #dairydanceoff challenge was born.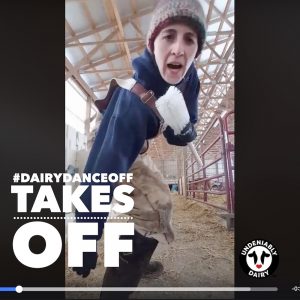 The #dairydanceoff soon took off with many dairy farmers showing off their moves in the milking parlor, near the calf hutches, and even inside their trucks and tractors.
This is a great example of how to reach urban dairy customers. Do something fun, and the wild world of social media will reward you with lots of views and the ability to get your message out to the masses.
I encourage you to view the videos and participate in the #dairydanceoff, even if you are not a dairy farmer. Share them with your friends and let them know that even when times are tough, dairy farmers love to dance. Especially in front of their ladies.
If you want to see more than 50 videos of the #dairydanceoff, go to dairygood.org.
On this #aprilfools, we are dropping some love and support for dairy farmers that is no joke! We are so grateful for their hard work and tireless dedication everyday. We hope this #dairydanceoff helps everyone crack a smile before starting out another week! 🤪😂😎(PS watch out for the adorable calf on the right dancing with us!) #dairydanceoff #dairyfan #farm365 #dairy #milk #calves #heifers #familyfarm #farmlife #farmlove #newyork #carhartt #underarmour #calftel #uddertech #getoutside #winterisback #optoutside #iceicebaby

Posted by Mapleview Dairy on Sunday, April 1, 2018
Did someone say dance party?!? These cousins heard about the #dairydanceoff and accepted the challenge! We love our lifestyle and are happy to share it with the next generation. There is never a dull moment at the farm. Are you up for the challenge?!? Show us your moves!!!! #sleepovers #dancetillthecowscomehome #cotteneyedjoe #livingthedream

Posted by Borzick Farms on Monday, March 26, 2018
---
Moving Agriculture Forward
The AGDAILY Digest is the information superhighway for your country road.
---